Etchings are made on zinc plates produced and editioned in the Cheshire studio. There are never more than 50 copies in any one edition.
They are original prints, the image is drawn directly on to the plate and each print is made by hand.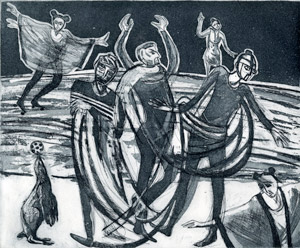 "The Enthusiasts"

2021, a group of characters including contemporary dancers, a local campaigner, and a sea lion together greet the end of restraints with enthusiasm.
Limited edition of 40 copies, etching with aquatint, image size 25 x 30 cm, paper size 38 x 55 cm.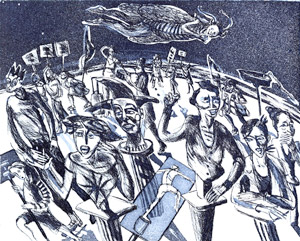 "Farewell Fly Bye"

The image looks back at 2019 a year of marches, and meetings peppered with figures from family and previous artworks eg Puck (see right) passing through observing the action below\


edition of 50 numbered copies printed on arches rag paper, etching and aquatint image size 20 x 25 cm paper size 47 x 57 cm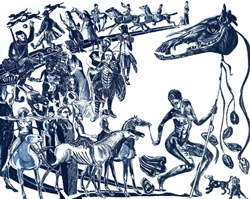 "Parade" 2018 an edition of 40 copies for printed on 300gsm rag paper
etching & aquatint 40 x 50 cm




"Masque" Winner Printmaking Today award : -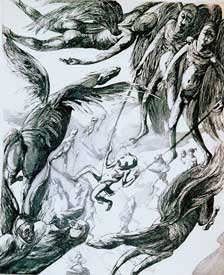 "Masque"
Etching & Aquatint limited edition of 50; image size 36 x 30 cm.
Exhibited RA Summer Exhibition 2010
"Masque" was awarded the 2009 Printmaking Today Award at The Royal Society of Painter Printmakers Annual Exhibition, Bankside Gallery, London.
printed on Somerset Cream 300 gsm textured.
"Secret Garden" was awarded the Gainsborough's House Prize at the Printmakers Council National Print Exhibition 1996


To arrange an appointment for a studio visit, to enquire about a purchase or prices please email
Click on an image to see a larger version.

Puck
Etching and Aquatint 20 x 15 cm


Titania
Etching and Aquatint 22 x20 cm



Titania & Bottom
Lino Cut 20 x 15 cm



Huntsman and Pastry Cutter
Etching and Aquatint 20 x 15 cm



Huntsman and Magnet
Etching and Aquatint 10 x 15 cm



Huntsman and Cowries
Etching and Aquatint 10 x 15 cm




Juggler
Etching and Aquatint 11 x 9 cm




Jugglers
Etching and Aquatint 11 x 9 cm




Tumblers
Etching and Aquatint 11 x 9 cm




Morning Run
Etching and Aquatint 16 x 26 cm




Secret Garden
Etching and Aquatint 34 x 50 cm




Souvenirs de Cezanne
Etching and Aquatint 34 x 50 cm




Seen on Merseyside
Etching and Aquatint 27 x 30 cm




Strangers St. Victoire
Etching and Aquatint 23 x 30 cm




Masque
Etching and Aquatint 36 x 30 cm




Flights of Fancy
Etching and Aquatint 25 x 50 cm




Hindsight
Etching and Aquatint 25 x 28 cm




Centenary
Etching and Aquatint 35 x 40 cm







Parthian Archers
Aquatint & Sugar Lift 15 x 20 cm




Any Other Business
Etching and Aquatint 10 x 15 cm




Avenging Angels
Etching and Aquatint 28 x 38 cm








Shadow 1




Aquatint 11 x 10 cm





Shadow 2
Aquatint 11 x 10 cm


Shadow Leap
Aquatint 15 x 10 cm