Etchings are made on zinc plates produced and editioned in the Cheshire studio. There are never more than 50 copies in any one edition.
These are original prints, the image is drawn directly on to the plate and each print is made by hand.

"Parade" is a new edition of 40 copies for 2018 printed on 300gsm rag paper
etching & aquatint 40 x 50 cm
£420 unframed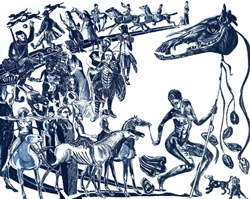 Winner Printmaking Today award 2009 : -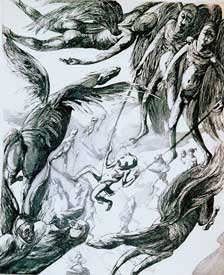 "Masque"
Etching & Aquatint limited edition of 50; image size 36 x 30 cm.
This etching was hung in the RA Summer Exhibition 2010
£400 framed.....£350 unframed, printed on Somerset Cream 300 gsm textured.
"Masque" was awarded the 2009 Printmaking Today Award at The Royal Society of Painter Printmakers Annual Exhibition, Bankside Gallery, London.
"Secret Garden" was awarded the Gainsborough's House Prize at the Printmakers Council National Print Exhibition 1996

To arrange an appointment for a studio visit or to order please e mail
Click on an image to see a larger version.