These pictures reflect the artists personal interests in sculpture, art history, horses, and the habitual practise of noting items of interest in sketchbooks. All these play their part in forming large paintings and drawings.

Julia's work is exhibited regularly all over the UK and abroad.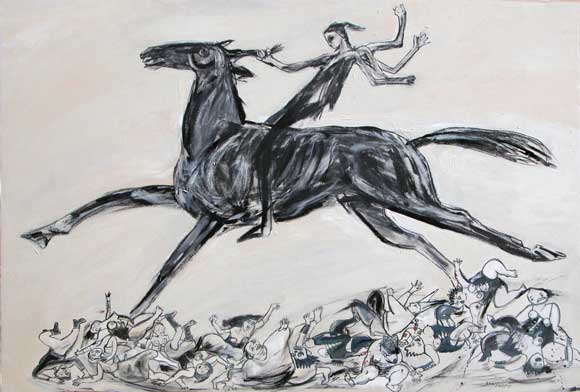 Fracas Acrylic and Pastel 90 x 140 cm

for prices please contact the artist :-
Tel:
Studio 01606 77006
Mobile 07887 525050

e. julia@juliamidgley.co.uk
www.juliamidgley.co.uk

Click on an image to see a larger version.
Celebration
Acrylic & Pastel

size unframed 65 x 110 cm

Friend or Foe
Acrylic & Pastel

size unframed 62 x 85 cm

Ghosts - SOLD
Acrylic & Pastel

size unframed 100 x 130 cm

Leopards in Landscape - SOLD
Acrylic & Pastel

size unframed 90 x 122 cm

Mischief Afoot
Acrylic & Pastel

size unframed 76 x 102 cm

Bingo - SOLD
Acrylic & Pastel

size unframed 75 x 110 cm

Cezanne Country - 2006
Watercolour, pastel and acrylic

size unframed 48 x 68cm

Escape from the Plinth - 2006
Acrylic and pastel

size framed 95 x 95 cm

Stripes - 2006
Ink, Wash and Acrylic Ink

size unframed 28 x 38 cm

The Meeting
Charcoal & Pastel

size unframed 65 x 85 cm

Work
Charcoal

size unframed 60 x 75 cm

Traveller's Tale - SOLD
Acrylic & Pastel

size unframed 56x 76 cm